5th VEPRA Conference, 9-10 September 2017
Dear Colleagues,
We are pleased to welcome you to the 5th VEPRA Conference!
It is a privilege to be your host and share with you Porto University and my city.
VEPRA Conferences are known for the fantastic environment of friendship and knowledge sharing. Together along the years we have made our way learning from each other and scientifically contributing to the evolution of animal rehabilitation, physical therapy, biomechanics, motion analysis, neurology, and sports medicine. Now it was the time to add regenerative medicine, thriving all our efforts to combine different research fields with one simple ideal, to provide evidence-based knowledge to fully accomplish the physical rehabilitation of our animals and efficiently return animal athletes back to sport.
We do hope you take the opportunity to learn from every moment either in between lectures or during lectures and go home with new thoughts and new contacts to support you in your professional life.
We thank our speakers and our sponsors for making this event possible and wish them all the success!
Looking forward to meet you all in Porto,
Bárbara Assis
President of Organizing Committee
VEPRA Co-Founder
Program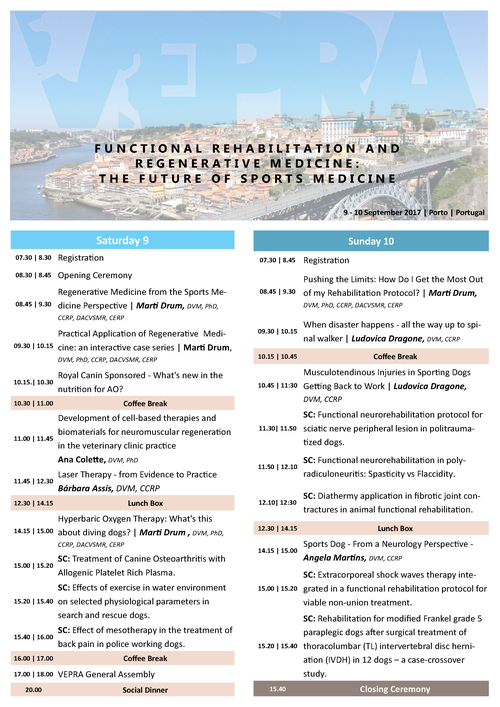 Please download the program:
ORGANIZING COMMITEE
President
Barbara Assis (PRT)
LOCAL ORGANIZING COMMITTEE:
Ana Teixeira (PRT)
Augusto Matos (PRT)
Nuno Braga da Cruz (PRT)
Paula Proença (PRT)
AEICBAS
INTERNATIONAL ORGANIZING COMMITTEE:
Anna Kaniewska (POL)
Cajsa Ericsson (SWE)
Ludovica Dragone (ITA)
Karen Barker-Benfield (AUT)
SCIENTIFIC COMMITTEE:
Barbara Bockstahler (AUT)
Zoran Vrbanac (CRO)
Ana Colette Maurício (PRT)
Artur Varejão (PRT)
SECRETARY:
Anabela Gouveia (PRT)